E-commerce adoption in Russia: Market- and store-level perspectives
Vera A. Rebiazina

Faculty of Business and Management, National Research University Higher School of Economics, Russia

Maria M. Smirnova

Graduate School of Management, St. Petersburg University, Russia

Anna O. Daviy

St. Petersburg School of Economics and Management, National Research University Higher School of Economics, Russia
Аннотация
E-commerce market development depends on the configuration of factors which both enable its further development, but might as well hinder its adoption by consumers. In particular, emerging markets provide numerous opportunities for e-commerce; however, they are also associated with specific barriers, limiting the potential for fully exploiting these opportunities. With an Internet audience of 93 mln people, the Russian emerging market represents the largest online audience in Europe, stimulating substantial e-commerce growth over the last decade. The main objective of this paper is to explore consumer perception of e-commerce adoption factors on two levels — the first are the macro-level factors, associated with the overall environment, institutional factors and trust; the second one is store-level factors, or factors associated with real consumer experiences. This multi-level approach reflects the complexity of consumer thinking about the market — both in terms of the evolving environment, offering opportunities to make decisions and make purchases; and real experience, where the factors are influencing particular consumer decisions and are weighted by consumers as pros and cons. Our study is based on a survey, using a sample of 3 387 respondents representing the consumer perspective. The findings reveal the structure of the driving and limiting factors, highlighting the core role of the trustworthiness and transparency of the e-commerce market players, delivery conditions and store-related risks.
Ключевые слова:
e-commerce, adoption, emerging markets, factor analysis
Скачивания
Данные скачивания пока недоступны.
Литература
Virin F. 2014. Internet Trading in 2014: New Data from the Huge Market.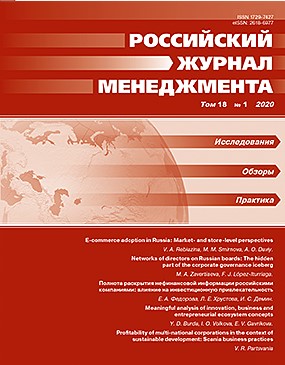 Как цитировать
Rebiazina, V. A., Smirnova, M. M., & Daviy, A. O. (2020). E-commerce adoption in Russia: Market- and store-level perspectives. Российский журнал менеджмента, 18(1), 5–28. https://doi.org/10.21638/spbu18.2020.101
Раздел
Теоретические и эмпирические исследования
Статьи журнала «Российский журнал менеджмента» находятся в открытом доступе и распространяются в соответствии с условиями Лицензионного Договора с Санкт-Петербургским государственным университетом, который бесплатно предоставляет авторам неограниченное распространение и самостоятельное архивирование.