Does Competition Enforcement Prevent Competitive Strategies of Digital Platforms: Evidence from BRICS
Svetlana B. Avdasheva

Applied Economics Department, Faculty of Economic Sciences, National Research University Higher School of Economics, Russia

Dina V. Korneeva

Department of Economics, National Research University Higher School of Economics, Russia
Аннотация
Competitive strategies of platforms often involve contractual arrangements that might be considered as anticompetitive. Since recent decisions of European Commission after investigations against Google in 2017 and 2018, and Bundeskartellamt against Facebook in 2019, the standards of liability for abuses applied by competition authorities will influence business models of digital platforms. This paper summarizes theories of harm applied by BRICS competition authorities applied towards multi-sided platforms under investigations. One may expect that BRICS approach to be harsher compared to mature competition jurisdictions. However, a comparison shows that discrimination and tying with exclusionary effects have been the focus of investigations and decisions in BRICS. Remedies in the infringement decisions are intended to protect rivalry through "no restriction of multihoming" conditions. There is no evidence that BRICS authorities apply a specific economic theory of multi-sided platforms. At the same time, BRICS competition enforcement could be applied as one of the legal instruments when one platform tries to crowd out another from global markets.
Ключевые слова:
multi-sided platform, competition policy, enforcement, theory of harm, BRICS
Скачивания
Данные скачивания пока недоступны.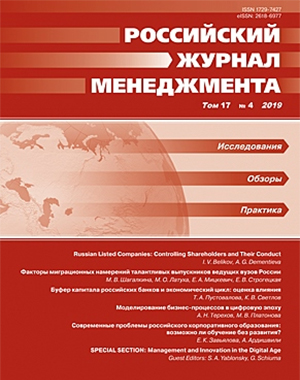 Как цитировать
Avdasheva, S. B., & Korneeva, D. V. (2020). Does Competition Enforcement Prevent Competitive Strategies of Digital Platforms: Evidence from BRICS. Российский журнал менеджмента, 17(4), 547–568. https://doi.org/10.21638/spbu18.2019.408
Раздел
Special Section: Management and Innovations in the Digital Age
Статьи журнала «Российский журнал менеджмента» находятся в открытом доступе и распространяются в соответствии с условиями Лицензионного Договора с Санкт-Петербургским государственным университетом, который бесплатно предоставляет авторам неограниченное распространение и самостоятельное архивирование.