Специфика бизнес-моделей в социальном предпринимательстве
Юлия Николаевна Арай

Институт «Высшая школа менеджмента» Санкт-Петербургского государственного университета, Россия

https://orcid.org/0000-0002-3428-3163

Татьяна Александровна Бурмистрова

Благотворительный фонд «Навстречу переменам», Москва, Россия
Аннотация
В статье на основе анализа явления «социальное предпринимательство» и концепции «бизнес-модель» показана актуальность изучения особенностей бизнес-моделей в социальном предпринимательстве. Продемонстрированы результаты эмпирического исследования, которое проводилось в период с апреля 2012 по декабрь 2013 г. с использованием индуктивного метода исследования — кейс-метода (casy study). В ходе анализа бизнес-моделей организаций, поддержанных Благотворительным фондом «Навстречу переменам» в 2012 г., получены данные, позволяющие сделать ряд предположений и выводов относительно особенностей бизнес-моделей в социальном
предпринимательстве.
Ключевые слова:
социальное предпринимательство, бизнес-модель, ценность
Скачивания
Данные скачивания пока недоступны.
Литература
ЛИТЕРАТУРА НА РУССКОМ ЯЗЫКЕ
Арай Ю. Н. 2013. Социальное предпринимательство в начале XXI века: основные понятия и страновые особенности. Российский журнал менеджмента 11 (1): 111–130.
Благов Ю. Е., Арай Ю. Н. 2010. Социальное предпринимательство: проблемы типологии (предисловие к разделу). Вестник С.-Петербургского ун-та. Серия Менеджмент (3): 109–114.
Джонсон Дж., Шоулз К., Уиттингтон Р. 2007. Корпоративная стратегия. Теория и практика. Пер. с англ. М.: Вильямс.
Катькало В. С. 2008. Эволюция теории стратегического управления. 2-е изд. СПб.: Изд-во «Высшая школа менеджмента»; Издат. дом С.-Петерб. ун-та.
Коуз Р. 2007. Проблема социальных издержек. В кн.: Коуз Р. Фирма, рынок и право. Пер. с англ. М.: Новое издательство.
Остервальдер А., Пинье И. 2014. Построение бизнес-модели. Пер. с англ. М.: Альпина-Паблишер.
Остин Дж., Стивенсон Г., Вей-Скиллерн Дж. 2010. Социальное и коммерческое предпринимательство: сходства и различия. Вестник С.-Петербургского ун-та. Серия Менеджмент (3): 115–145.
Полищук Л. 2009. Корпоративная социальная ответственность или государственное регулирование: анализ институционального выбора. Вопросы экономики (10): 4–22.
Портер М., Крамер С. 2011. Капитализм для всех. Harvard Business Review — Россия (март): 34–52.
Стиглиц Дж. 1997. Экономика государственного сектора. Пер. с англ. М.: ИНФРА-М.
Шаталов А. И. 2010. Взаимосвязь бизнес-модели и результатов деятельности фирмы (на материалах российских компаний отрасли общественного питания). Вестник С.-Петербургского ун-та. Серия Менеджмент (2): 3–31.
Хамел Г. 2007. Во главе революции. Пер. с англ. М.: Best Business Books.
REFERENCES IN LATIN ALPHABET
Alter S. K. 2007. Social Enterprise Typology. Virtue Ventures LLC (November 27, revised version).
Amit R., Zott C. 2001. Value creation in e-business. Strategic Management Journal 22 (6/7): 493–520.
Barney J. 1991. Firm resources and sustained competitive advantage. Journal of Management 17 (1): 99–120.
Battilana J., Lee M., Walker J., Dorsey C. 2012. In search of the hybrid ideal. Stanford Social Innovation Review (Summer): 49–55.
Bourdieu P. 1986. The forms of capital. In: Richardson J. (ed.). Handbook of Theory and Research for the Sociology of Education. Greenwood Press: N. Y.; 241–258.
Chesbrough H. W., Rosenbloom R. S. 2002. The role of the business model in capturing value from innovation; Evidence from Xerox corporation's technology spin-off companies. Industrial and Corporate Change 11 (3): 529–555.
Christensen C. M. 2001. The past and future of competitive advantage. MIT Sloan Management Review 4 (2): 105–109.
Close A. G., Finney R. Z., Lacey R., Sneath J. Z. 2006. Engaging the consumer through event marketing: Linking attendees with the sponsor, community, and brand. Journal of Advertising Research 46 (4): 420–433.
Dees J., Anderson B. 2006. Framing a theory of social entrepreneurship — Building on two schools of practice and thought. ARNOVA Occasional Paper Series 1 (3): 1–28.
Defourny J., Nyssens M. 2008. Social Enterprise in Europe: Recent Trends and Developments. Working Paper # 08/01. European Research Network.
Eisenhardt K. M. 1989. Building theories from case study research. Academy of Management Review 14 (4): 532–550.
Eisenhardt K. M., Graebner M. E. 2007. Theory building from cases: Opportunities and challenges. Academy of Management Journal 50 (1): 25–32.
Fritsch B., Rossi B., Hebb T. 2013. An Examination of the Tension Between Business and Social Mission Within Social Enterprises. Working Paper #13-07. Carleton Center for Community Innovation.
George A., Bennett A. 2005. Case Studies and Theory Development In the Social Sciences. MIT Press: Cambridge, MA.
Grassl W. 2012. Business models of social enterprise: A design approach to hybridity. ACRN Journal of Entrepreneurship Perspectives 1 (1): 37–60.
Guclu A., Dees G., Anderson B. 2002. The Process of Social Entrepreneurship: Creating Opportunities Worthy of Serious Pursuit. Center For The Advancement of Social Entrepreneurship. November.
Hamel G. 2000. Leading the Revolution: How to Thrive in Turbulent Times by Making Innovation a Way of Life. Penguin Group: N. Y.
Ireland R. D., Hitt M. A. 1992. Mission statements: Importance, challenge, and recommendations for development. Business Horizons 35 (3): 34–42.
Johnson G., Scholes K., Whittington R. 2005. Exploring Corporate Strategy. 7th ed. Prentice Hall: Harlow.
Kerlin J. 2010. Social enterprise in the United States and Europe: Understanding and learning from the differences. Voluntas 173: 246–62.
Mair J., Schoen O. 2007. Successful social entrepreneurial business models in the context of developing economies: An explorative study. International Journal of Emerging Markets 2 (1): 54–68.
Mansfield G. M., Fourie L. C. 2004. Strategy and business models — strange bedfellows? A case for convergence and its evolution into strategic architecture. South African Journal of Business Management 35 (1): 35–44.
Müller S. 2012. Business models in social entrepreneurship. In: Volkmann C. K. et al. Social Entrepreneurship and Social Business. Gabler Verlag/Springer Fachmedien Wiesbaden; 105–131.
Ngo L. V., O'Cass A. 2010. Value creation architecture and engineering. A business model encompassing the firm-customer dyad. European Business Review 22 (5): 496–514.
Ormiston J., Seymour R. 2011. Understanding value creation in social entrepreneurship. The importance of aligning mission, strategy and impact measurement. Journal of Social Entrepreneurship 2 (2): 125–150.
Penrose E. T. 1959. The Theory of the Growth of the Firm. Oxford University Press: Oxford. Peredo A. M., McLean M. 2006. Social entrepreneurship: A critical review of the concept. Journal of World Business 41 (1): 56–65.
Perrini F., Vurro C. 2006. Social entrepreneurship: Innovation and social change across theory and practice. In: Mair J., Robinson J., Hockerts K. (eds). Social Entrepreneurship. Basingstoke: UK.
Peteraf A. 1993. The cornerstones of competitive advantage: A resource-based view. Strategic Management Journal 14 (3): 179–191.
Pfeffer J., Salancik G. R. 1978. The External Control of Organizations: A Resource Dependency Perspectives. Harper and Row: N. Y.
Santos F. M. 2009. A Positive Theory of Social Entreprneurship. Working Paper, INSEAD Social Innovation Center.
Santos F. M. 2012. A positive theory of social entrepreneurship. Journal of Business Ethics 111 (3): 335–351.
Seelos C., Mair J. 2007. Profitable business models and market creation in the context of deep poverty: A strategic view. Academy of Management Perspectives (November): 49–63.
Sirmon D., Hitt M. A., Ireland R. D. Managing firm resources in dynamic environmnets to create value: Looking inside the black box. Academy of Management Review 32 (1): 273–292.
Sommerrock K. 2010. Social Entrepreneurship Business Models. Palgrave Macmillan: N. Y.
Stevenson H. H. 1999. New Business Ventures and the Entrepreneur. Irwin-McGraw Hill.
Stewart D. W., Zhao Q. 2000. Internet marketing, business models, and public policy. Journal of Public Policy & Marketing 19 (2): 287–296.
Teece D. J., Pisano G., Shuen A. A. 1997. Dynamic capabilities and strategic management. Strategic Management Journal 18 (7): 504–534.
Thompson J. D., MacMillan I. C. 2010. Business models: Creating new markets and societal wealth. Long Range Planning 43 (2–3): 291–307.
Throsby D. 1999. Cultural capital. Journal of Cultural Economics 23 (1–2): 3–12.
Timmons J. A. 1998. America's Entrepreneurial Revolution: The Demise of Brontosaurus Capitalism. Babson College: MA.
Weisbrod B. 1977. The Voluntary Nonprofit Sector. DC Heath & Co.: Lexington, MA.
Wernerfelt B. 1984. A resource-based view of the firm. Strategic Management Journal 5 (2): 171–180.
Wilson F., Post J. E. 2013. Business models for people, planet (& profits): Exploring the phenomena of social business, a market-based approach to social value creation. Small Business Economics 40 (3): 715–737.
Yin R. K. 2003. Case Study Research: Design and Methods. Sage Publications: London.
Young R. 2006. For what it is worth: Social value and the future of social entrepreneurship. In: Nicholls A. (eds). Social Entrepreneurship — New Models of Sustainable Social Change. Oxford University Press; 56–73.
Yunus M., Moingeon B., Lehmann-Ortega L. 2009. Building Social Business Models: Lessons from the Grameen Experience. HEC Paris — Working Paper No. 913.
Zott C., Amit R. 2008. The fit between product market strategy and business model: Implications for firm performance. Strategic Management Journal 29 (1): 1–26.

The List of References in Cyrillic Transliterated into Latin Alphabet
Aray Yu. N. 2013. Sotsial'noe predprinimatel'stvo v nachale XXI veka: osnovnye ponyatiya i stranovye osobennosti. Rossijskij zhurnal menedzhmenta 11 (1): 111–130.
Blagov Yu. E., Аray Yu. N. 2010. Sotsial'noe predprinimatel'stvo: problemy tipologii (predislovie k razdelu). Vestnik S.-Peterburgskogo un-ta. Seriya Menedzhment (3): 109–114.
Johnson G., Scholes K., Wittington R. 2007. Korporativnaya strategiya. Teoriya i praktika. Per. s angl. M.: Vil'yams.
Katkalo V. S. 2008. Evolyutsiya teorii strategicheskogo upravleniya. 2-e izd. SPb.: Izd-vo «Vysshaya shkola menedzhmenta»; Izdat. dom S.-Peterb. un-ta.
Coase R. 2007. Problema sotsial'nykh izderzhek. V kn: Coase R. Firma, rynok i pravo. Per. s angl. M.: Novoe izdatel'stvo.
Osterwalder А., Pigneur Y. 2014. Postroenie biznes-modeli. Per. s angl. M.: Аlpina-Pablisher.
Austin G., Stevenson G., Wei-Skillern J. 2010. Sotsial'noe i kommercheskoe predprinimatel'stvo: skhodstva i razlichiya. Per. s angl. Vestnik S.-Peterburgskogo un-ta. Seriya Menedzhment (3): 115–145.
Polishuk L. 2009. Korporativnaya sotsial'naya otvetstvennost' ili gosudarstvennoe regulirovanie: analiz institutsional'nogo vybora. Voprosy ekonomiki (10): 4–22.
Porter M., Kramer S. 2011. Kapitalizm dlya vsekh. Per. s angl. Harvard Business Review — Rossiya (Mart): 34–52.
Stiglitz G. 1997. Ekonomika gosudarstvennogo sektora. Per. s angl. M.: INFRА-M.
Shatalov А. I. 2010. Vzaimosvyaz' biznes-modeli i rezul'tatov deyatel'nosti firmy (na materialakh rossijskikh kompanij otrasli obshhestvennogo pitaniya). Vestnik S.-Peterburgskogo un-ta. Seriya Menedzhment (2): 3–31.
Hamel G. 2007. Vo glave revolyutsii. Per. s angl. M.: Best Business Books.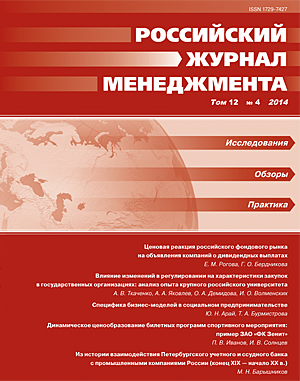 Как цитировать
Арай, Ю. Н., & Бурмистрова, Т. А. (2014). Специфика бизнес-моделей в социальном предпринимательстве. Российский журнал менеджмента, 12(4), 55–78. извлечено от https://rjm.spbu.ru/article/view/203
Раздел
Новые исследования
Статьи журнала «Российский журнал менеджмента» находятся в открытом доступе и распространяются в соответствии с условиями Лицензионного Договора с Санкт-Петербургским государственным университетом, который бесплатно предоставляет авторам неограниченное распространение и самостоятельное архивирование.