Multi-sided Platforms: Current State And Future Research
Sergey A. Yablonsky

Graduate School of Management, St. Petersburg State University, Russia
Аннотация
In the digital age traditional ways of doing business have been transformed by a group of new platform-driven companies like Facebook, Amazon, Uber, Airbnb and some others. This relatively new digital economy research phenomenon requires inclusive understanding. The paper explores and questions platform research in the context of digital multi-sided platforms. It provides main definitions and descusses the concept of digital platform stack framework. The characteristics, advantages and disadvantages, opportunities and threats associated with the activities of digital platforms have been considered. The paper systematizes current research with focus on the platform digital transformation, strategy, business models and architecture and suggests agenda for future research.
Ключевые слова:
business platform, technology platform, multi-sided platform, platform business model, platform stack
Скачивания
Данные скачивания пока недоступны.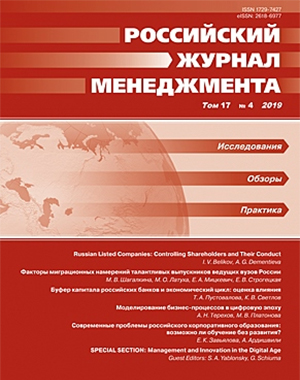 Как цитировать
Yablonsky, S. A. (2020). Multi-sided Platforms: Current State And Future Research. Российский журнал менеджмента, 17(4), 519–546. https://doi.org/10.21638/spbu18.2019.407
Раздел
Special Section: Management and Innovations in the Digital Age
Статьи журнала «Российский журнал менеджмента» находятся в открытом доступе и распространяются в соответствии с условиями Лицензионного Договора с Санкт-Петербургским государственным университетом, который бесплатно предоставляет авторам неограниченное распространение и самостоятельное архивирование.