Russian Listed Companies: Controlling Shareholders and Their Conduct
Igor V. Belikov

Russian Institute of Directors, Russia

Alla G. Dementieva

School of International Business and Business Administration, MGIMO University, Russia
Аннотация
The high concentration of ownership has remained the key feature of Russian companies, including publicly traded companies. Even at the peak of the romance with Western portfolio investors, the controlling shareholders of Russian listed companies put the full control at the top of their priorities. In the 2000s, the Russian listed companies' controlling shareholders sought gradual accommodation with minority shareholders and a gradual acceptance of Western corporate governance practices and thus espoused market capitalization as an important strategic goal. This was reversed in the 2010s as the rapidly tightening grip of the state on private business and mounting restrictions on Western investment in the Russian economy took hold. It has also reduced a market demand for Western best corporate governance practices on the part of Russian controlling shareholders. After 2014, most controlling shareholders of Russian listed companies have switched to the strategy of acting as junior partners of the state. This switch has largely diminished their market orientation and the demand for Western-style corporate governance. The future of the large Russian listed companies fully depends on the relations of their majority owners with the Russian state and thus remains uncertain.
Ключевые слова:
listed companies, ownership structure, state, controlling shareholders, IPO, monetization of property rights, corporate governance
Скачивания
Данные скачивания пока недоступны.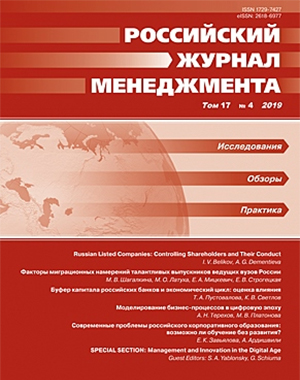 Как цитировать
Belikov, I. V., & Dementieva, A. G. (2020). Russian Listed Companies: Controlling Shareholders and Their Conduct. Российский журнал менеджмента, 17(4), 427–444. https://doi.org/10.21638/spbu18.2019.401
Раздел
Теоретические и эмпирические исследования
Статьи журнала «Российский журнал менеджмента» находятся в открытом доступе и распространяются в соответствии с условиями Лицензионного Договора с Санкт-Петербургским государственным университетом, который бесплатно предоставляет авторам неограниченное распространение и самостоятельное архивирование.