Coordinating Flows of Organisational Knowledge: The Role of the Corporate University
Victoria Konovalenko Slettli

Университет прикладных наук Внутренней Норвегии, Норвегия

Kjell Grønhaug

Норвежская школа экономики, Норвегия
Аннотация
Цель статьи — улучшить понимание феномена корпоративного университета через обращение к той роли, которую играет корпоративный университет в координации потока организационного знания. В работе представлен лонгитюдный кейс корпоративного университета «Северстали». Мы демонстрируем, как корпоративный университет содействует динамическому управлению знаниями в компании, выступая в качестве координатора потоков знаний. Исследование предлагает свидетельства того, как корпоративный университет, выполняя три роли в координации знаний, несет корпоративную функцию поддержки развивающегося бизнеса в разные периоды организационного развития. Полученные результаты позволяют выделить следующие роли корпоративного университета, связанные с координацией потоков знаний: гармонизация знаний, распространение знаний и централизация знаний. Результатом анализа является динамическая концепция корпоративного университета, стадии развития которого объясняются скорее с телеологической точки зрения, нежели с точки зрения жизненного цикла. Иными словами, развитие корпоративного университета управляется его изменяющимися целью и задачами. Они, в свою очередь, формулируются и пересматриваются в соответствии с меняющимися потребностями материнской компании в сфере управления знаниями.
Ключевые слова:
корпоративный университет, потоки знаний, координация, стратегическое развитие, кейс-метод
Скачивания
Данные скачивания пока недоступны.
Литература
Abel A. L., Li J. 2012. Exploring the corporate university phenomenon: Development and implementation of a comprehensive survey. Human Resource Development Quarterly 23 (1): 103–128.
Alagaraja M., Li J. 2014. Utilizing institutional perspectives to investigate the emergence, rise, and (relative) decline of corporate universities. Human Resource Development International 18 (1): 4–23.
Allen M. 2010. Corporate universities 2010: Globalization and greater sophistication. The Journal of International Management Studies 5 (1): 48–53.
Ambos T. C., Ambos B. 2009. The impact of distance on knowledge transfer effectiveness in multinational corporations. Journal of International Management 15 (1): 1–14.
Antonelli G., Cappiello G., Pedrini G. 2013. The Corporate University in the European utility industries. Utilities Policy 25: 33–41.
Ardichvili A., Zavyalova E. 2015. Human Resource Development in the Russian Federation. Routledge: N. Y.
Barney J. 1991. Firm resources and sustained competitive advantage. Journal of Management 17 (1): 99–120.
da Silva F. S. C., Agustí-Cullel J. 2003. Issues on knowledge coordination. Knowledge and Process Management 10 (1): 37–59.
Dixon S. E. A., Day M., Brewster C. 2014. Changing HRM systems in two Russian oil companies: Western hegemony or Russian spetsifika? The International Journal of Human Resource Management 25: 1–23.
Fey C. F., Denison D. R. 2003. Organizational culture and effectiveness: Can American theory be applied in Russia? Organization Science 14 (6): 686–706.
Fey C. F., Shekshnia S. 2011. The key commandments for doing business in Russia. Organizational Dynamics 40 (1): 57–66.
Garud R. 1997. On the distinction between know-how, know-why, and know-what. Advances in Strategic Management 14: 81–101.
Ghoshal S., Korine H., Szulanski G. 1994. Interunit communication in multinational corporations. Management Science 40 (1): 96–110.
Goold M., Campbell A., Alexander M. 1994. Corporate-level Strategy: Creating Value in the Multibusiness Company. Wiley: N. Y.
Gorshkov M. K., Kliucharev G. A. 2013. The current state and prospects of corporate education. Russian Education and Society 55 (9): 23–46.
Gupta A. K., Govindarajan V. 1991. Knowledge flows and the structure of control within multinational corporations. Academy of Management Review 16 (4): 768–792.
Holland P., Pyman A. 2006. Corporate universities: A catalyst for strategic human resource development? Journal of European Industrial Training 30 (1): 19–31.
Holm U., Sharma D. D. 2006. Subsidiary marketing knowledge and strategic development of the multinational corporation. Journal of International Management 12 (1): 47–66.
Hong J. F. L., Easterby-Smith M., Snell R. S. 2006. Transferring organizational learning systems to Japanese subsidiaries in China. Journal of Management Studies 43 (5): 1027–1058.
Konovalenko Slettli V., Grønhaug K. 2016. On the two perspectives on coordination of knowledge flows: Knowledge-enabling and control. Beta: Scandianvian Journal of Business Research 30 (2): 158–173.
Kostova T., Roth K. 2002. Adoption of an organizational practice by subsidiaries of multinational corporations: Institutional and relational effects. Academy of Management Journal 45 (1): 215–233.
Kotlarsky J., van Fenema P. C., Willcocks L. P. 2008. Developing a knowledge-based perspective on coordination: The case of global software projects. Information & Management 45 (2): 96–108.
Latukha M. 2010. Ilim Pulp, blending former Russian state enterprises, creates a corporate university to change culture, become an industry leader. Global Business and Organizational Excellence 29 (5): 40–51.
Latukha M. 2015. Talent management in Russian companies: Domestic challenges and international experience. The International Journal of Human Resource Management 26 (8): 1051–1075.
Malik K. 2004. Coordination of technological knowledge flows in firms. Journal of Knowledge Management 8 (2): 64–72.
Michailova S., Mustaffa Z. 2012. Subsidiary knowledge flows in multinational corporations: Research accomplishments, gaps, and opportunities. Journal of World Business 47 (3): 383–396.
Nielsen B. B., Michailova S. 2007. Knowledge management systems in multinational corporations: Typology and transitional dynamics. Long Range Planning 40 (3): 314–340.
Rhéaume L., Gardoni M. 2015. The challenges facing corporate universities in dealing with open innovation. Journal of Workplace Learning 27 (4): 315–328.
Rhéaume L., Gardoni M. 2016. Strategy-making for innovation management and the development of corporate universities. International Journal on Interactive Design and Manufacturing 10 (1): 73–84.
Schulz M. 2001. The uncertain relevance of newness: Organizational learning and knowledge flows. Academy of Management Journal 44 (4): 661–681.
Schulz M. 2003. Pathways of relevance: Exploring inflows of knowledge into subunits of multinational corporations. Organization Science 14 (4): 440–459.
Sparkes J. R., Miyake M. 2000. Knowledge transfer and human resource development practices: Japanese firms in Brazil and Mexico. International Business Review 9 (5): 599–612.
The Synergy. 2004–2008. Corporate magazine. Cherepovets: Severstal Corporate University.
Szulanski G. 1996. Exploring internal stickiness: Impediments to the transfer of best practice within the firm. Strategic Management Journal 17 (S2): 27–43.
Teece D. J. 2000. Managing Intellectual Capital: Organizational, Strategic, and Policy Dimensions. Oxford University Press: Oxford, UK.
Tsai W. 2002. Social structure of "coopetition" within a multiunit organization: Coordination, competition, and intraorganizational knowledge sharing. Organization Science 13 (2): 179–190.
Van De Ven A. H., Poole M. S. 1995. Explaining development and change in organizations. Academy of Management Review 20 (3): 510–540.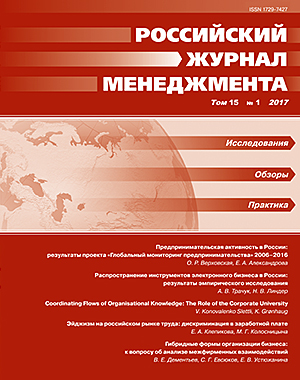 Как цитировать
Konovalenko Slettli, V., & Grønhaug, K. (2017). Coordinating Flows of Organisational Knowledge: The Role of the Corporate University. Российский журнал менеджмента, 15(1), 51–68. https://doi.org/10.21638/11701/spbu18.2017.103
Раздел
Теоретические и эмпирические исследования
Статьи журнала «Российский журнал менеджмента» находятся в открытом доступе и распространяются в соответствии с условиями Лицензионного Договора с Санкт-Петербургским государственным университетом, который бесплатно предоставляет авторам неограниченное распространение и самостоятельное архивирование.