On some approaches to increasing performance and cost-efficiency of Russian regional AIDS centers
Evgenii V. Gilenko

Graduate School of Management, St. Petersburg State University, Russia

https://orcid.org/0000-0001-6539-0212

Andrei E. Ivanov

Graduate School of Management, St. Petersburg State University, Russia

Ekaterina M. Batueva

Graduate School of Management, St. Petersburg State University, Russia
Аннотация
The paper discusses the problem of counteracting the spread of HIV/AIDS in Russia. This disease is the main cause of death for the Russian working-age population, which annually takes tens of thousands of lives and hinders the achievement of such goals of the Russian state policy as preserving the health and well-being of Russian people. The principal elements of the system of HIV/AIDS counteraction are regional AIDS prevention and control centers (AIDS centers), whose improvement of performance is required by the "State Strategy for Counteracting the Spread of the HIV Infection in the Russian Federation for the period up to 2020 and beyond". In this paper, based on the proposed modification of M. Porter's care delivery value chain model, we demonstrate the ways of enhancing the performance of a regional AIDS center by increasing the value of its services and reducing the costs of their provision due to strengthening the channels of transferring information about HIV/AIDS to the population, improving the accuracy of predicting new registered cases of HIV/AIDS, as well as perfecting public procurement of the necessary medicines and consumables. Our calculations are based on real data of the Perm AIDS center. As a result, relevant recommendations are formulated for the leadership of the Perm AIDS center on the ways of interaction with the population, prediction of new HIV/AIDS cases, and conducting public procurement of drugs and consumables for the needs of the center.
Ключевые слова:
regional AIDS centers, care delivery value chain, public procurement, channels of communication with population, prediction of new HIV cases
Скачивания
Данные скачивания пока недоступны.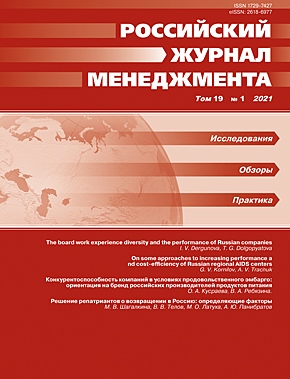 Как цитировать
Gilenko, E. V., Ivanov, A. E., & Batueva, E. M. (2021). On some approaches to increasing performance and cost-efficiency of Russian regional AIDS centers. Российский журнал менеджмента, 19(1), 35–66. https://doi.org/10.21638/spbu18.2021.102
Раздел
Теоретические и эмпирические исследования
Статьи журнала «Российский журнал менеджмента» находятся в открытом доступе и распространяются в соответствии с условиями Лицензионного Договора с Санкт-Петербургским государственным университетом, который бесплатно предоставляет авторам неограниченное распространение и самостоятельное архивирование.