Profitability of multi-national corporations in the context of sustainable development: Scania business practices
Vakhtang R. Partsvania

Institute of Social Sciences, Russian Presidential Academy of National Economy and Public Administration; Scania-Rus, Russia
Аннотация
In this article, I explore the relationship between sustainable development and commercial success, using the example of the multi-national corporation (MNC), Scania. Despite broad discussion of necessity for businesses to be actively engaged in the sustainable development of goals at global and national level, only a small number of MNCs are actually taking concrete actions towards reaching any of them. In reality, corporations' commitment to these goals often remains of a declaratory nature. Organizational practices emphasising social responsibility and environmental obligations have rarely been connected to generating income. This work attempts to investigate sustainable development as a source of new business opportunities to bring MNCs additional income. With concrete business practices from Scania I illustrate how
corporations may adjust their strategic behavior, approaches and positioning in the global market whithin the context of the sustainable development paradigm. The analysis is based on the public account records and official documents of Scania, as well as the company's official site and open sources of information.
Ключевые слова:
sustainable development, multi-national corporations, business practices, digital technology, corporate social responsibility, Scania
Скачивания
Данные скачивания пока недоступны.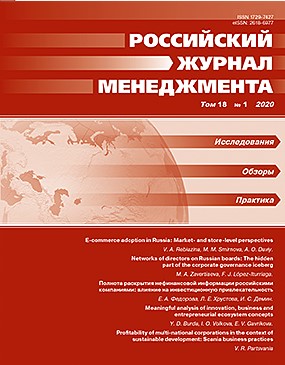 Как цитировать
Partsvania, V. R. (2020). Profitability of multi-national corporations in the context of sustainable development: Scania business practices. Российский журнал менеджмента, 18(1), 103–116. https://doi.org/10.21638/spbu18.2020.105
Раздел
Практика менеджмента
Статьи журнала «Российский журнал менеджмента» находятся в открытом доступе и распространяются в соответствии с условиями Лицензионного Договора с Санкт-Петербургским государственным университетом, который бесплатно предоставляет авторам неограниченное распространение и самостоятельное архивирование.